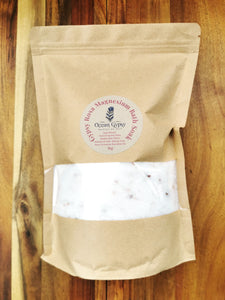 Relax sore muscles, the digestive system and the nervous system with Ocean Gypsy Magnesium Bath Soak in Gypsy Rosa Scent.  Containing Magnesium Flakes, Natural Magnesium Epsom Salt, Himalayan Salt, Baking Soda & Rose Geranium Essential Oils, your body, mind & spirit will be in a place of Zen in no time.
This package is 1 kg so approx 4 baths or 8 foot baths in a packet.  We lack in magnesium in New Zealand soils so therefore many of us are deficient.  Epsom Salt is thought to be the quickest way to get Magnesium into the body.  
For a foot bath fill a foot bath or wide round container (big enough to fit two feet in). Place 1/2 cup of magnesium soak into the foot bath, pour over warm to hot water, and swish until dissolved using a whisk.  Soak for 20 to 30 minutes to detoxify the body and absorb the magnesium in through the feet.    Once out of the bath, rub the feet with Ocean Gypsy Organic Castor Oil or Healing Balm and place feet into socks for the skin to absorb the goodness.  
For a bath, sprinkle 1 cup of Ocean Gypsy Magnesium Bath Soak into the bath, fill the bath with warm to hot water around 36 to 37 degrees.  Swish with a whisk to dissolve.  Soak for 20 to 30 minutes.  After the bath, dry your skin gently and massage in Ocean Gypsy Body Oil all over the body. 
Tip: pour the left over bath water onto your citrus as citrus plants love Epsom Salt. This prevents leaves from going yellow.
Available in three scents Gypsy Rosa, Natural Unscented & Foot Soak Peppermint, Eucalytus, Rosemary & Lavender.