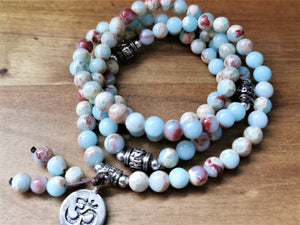 Mala beads are powerful and symbolic tools for meditation that have also been used in prayer.  The mala beads will connect you to your truest, most unique, authentic self. 
These Larderite Mala beads can be worn either as a necklace or bracelet, it has the Om symbol that represents the sound of the universe and can energize your chakras.
Larderite is a mix of minerals that has been melded with hot lava in natural events on Earth.  It is known to create a balance between body, mind, and spirit and fosters creativity.  Promotes harmony, clarity, peace, and calm.
Mala/Prayer beads have been used for centuries by a range of religions, from Hinduism to Catholicism. ... They traditionally include 108 beads in addition to a guru bead, which is larger than the rest of the beads.