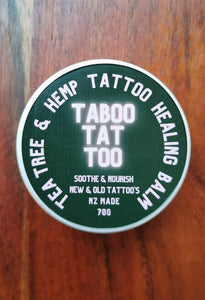 So excited to include TABOO TATTOO healing balm into our range of products.  This wonderful tattoo balm is the perfect aftercare for new tattoos as well as enhancing older tattoos.  With all-natural nourishing ingredients, this balm will have you showing off that new tattoo in no time.  
The Tea Tree & Hemp Balm is naturally antibacterial and anti-microbial due to the essential oil of tea tree.  Calendula oil is well known for its skin healing abilities, and less known for its super powerful nourishing and healing abilities is hemp & camellia oil.  
We use sunflower wax to place a protective coating over the skin, which is important for fresh tattoos but also for older tattoo.  
All our balms are vegan & cruelty-free.
Comes in two varieties, Rose & Hemp, and Tea Tree & Hemp.
This is for one tin only.
Comes in a 24g aluminium tin.
Ingredients; organic shea butter, mango butter, hemp oil, calendula-infused sunflower oil, camellia oil, sunflower wax, vitamin E from soy, tea tree and lavender.  
All vegan and cruelty-free.