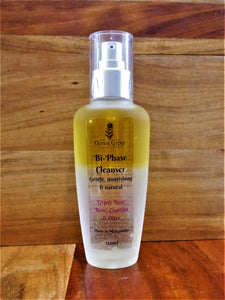 Bi-Phase Cleanser in Gypsy Rosa Scent is a lovely gentle but very effective natural cleanser which removes dirt, grime and makeup easily.  With cleansing oils of camellia oil and local olive oil combined with anti-inflammatory witch hazel and rose hydrosol. 
Shake the Bi-Phase Cleanser and immediately pump it onto a cotton ball. Wipe over the face to remove unwanted dirt, grime and makeup.  After removal, wash the face with a warm cloth.  Spray over Ocean Gypsy Bach Flowers Toner to neutralize the skin.  Next, apply Ocean Gypsy Bach Flowers Facial Oil and leave for 5 minutes to absorb. 
Finish with Ocean Gypsy Nourishing Balm or Ocean Gypsy Silk Cream.  For beautifully clean, nourished hydrated skin. 
Refill is available with an aluminium cap; just change over the spray cap to your next bottle. 
Ingredients;
Camellia Oil, Local Olive Oil, Rose Hydrosol, Witch Hazel, Vitamin E, Micro Care (preservative) & salt.