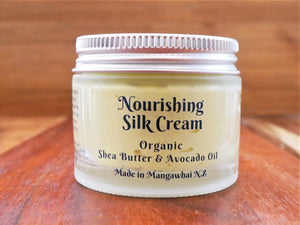 Ocean Gypsy Nourishing Silk Cream is wonderful for all types of skin, particularly mature skin, due to avocado oil & shea butter containing high vitamin E.  This wonderful smooth, soft cream is made from Organic Shea Butter, Organic Avocado Oil plus a touch of rose geranium and vitamin E oil.  
Make locally in Mangawhai Heads.
40g glass pot with aluminium lid.
Shea butter contains high levels of linoleic acid and oleic acid these two acids balance each other out, making the shea butter easily absorbable into the skin; this helps clear skin of excess oil (sebum), perfect for acne-prone skin.  Shea butter has high antioxidant value, particularly vitamin A & E, creating anti-inflammatory properties perfect for eczema and acne skin. 
Shea butter is rich in different kinds of fatty acids. This unique composition helps clear your skin of excess oil (sebum).
Avocado Oil
The beta carotene, protein, lecithin, fatty acids, and vitamins A, D, and E found in avocado oil help nourish and protect your skin.  It has been seen to increase collagen production important in wrinkle prevention.
Avocado oil may also help heal wounds. A 2013 study found that linoleic acid, oleic acid, and other monosaturated fatty acids in avocado oil can speed up wound healing.