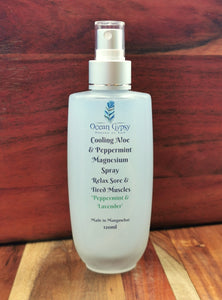 Ocean Gypsy Aloe & Peppermint Magnesium Spray, to relax tired & sore muscles.  This magnesium spray is awesome, it gives instant relief to tired, sore, achy muscles. 
With magnesium that naturally relaxes muscle tissue and the nervous system, peppermint for a cool effect and aloe soothes the area. My customers have found relief for arthritis, strained muscles or stiff shoulders.  Give it a go and get some relief now. 
You may experience a tingling feeling this is the magnesium taking effect.  Keep away from eye and face due to peppermint oil.  
Not recommended for pregnancy, breastfeeding, asthmatics or for kids under 6 years old as it contains peppermint essential oil.   Don't use it on broken skin such as grazed skin, cuts and open wounds due to peppermint oil.
150ml bottle.