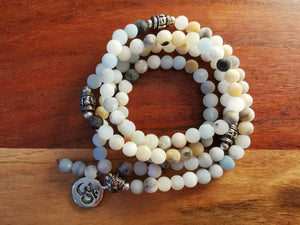 Mala beads are powerful and symbolic tools for meditation that have also been used in prayer.  The mala beads will connect you to your truest, most unique, authentic self. 
These Amazonite Mala beads can be worn either as a necklace or bracelet, it has the Om symbol that represents the sound of the universe and can energize your chakras.
Amazonite is believed to promote balance, harmony, and emotional healing. It is said to alleviate stress and anxiety while enhancing communication and self-expression. Amazonite is also thought to stimulate creativity and intuition, empowering individuals to manifest their desires and achieve personal growth. Furthermore, its soothing energy promotes a sense of calm and tranquility, making it an excellent companion for meditation and spiritual practices.
Mala/Prayer beads have been used for centuries by a range of religions, from Hinduism to Catholicism. ... They traditionally include 108 beads in addition to a guru bead, which is larger than the rest of the beads.