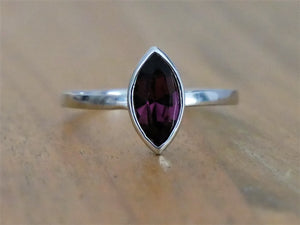 This Ocean Gypsy Amethyst Blue Swarovski Crystal Sterling Silver Ring in a surfboard shape is simply majestic. The Purple colour is a beautiful deep mystical Amethyst colour.
The crystal is 1cm in size
Amethyst is the birthstone of the Zodiac sign Pisces 19th Feb to 20th March.  
Swarovski Crystal is a high-quality crystal glass made in Austria since 1895. 
Made from 925 Sterling Silver and Turquoise Blue Swarovski Crystal. Comes in an Ocean Gypsy Jewellery Bag
Note; also available in Sapphire Blue  & Turquoise see our online store
To Measure for the size of the ring; 
To measure for your new ring;
Simply wrap a piece of string or paper around the base of the finger, then mark with a pen where the two ends meet.
Lay the string or paper out and measure it using a ruler in mm.  Note the measurement down.
Then choose the closest measurement on the ring chart below.
| | | |
| --- | --- | --- |
| Size | Diameter (mm) | Circumference (mm) |
| 6 | 16.5mm | 51.9mm |
| 7 | 17.3mm | 54.4mm |
| 8 | 18.2mm | 57mm |
| 9 | 18.9mm | 59.5mm |
| 10 | 19.8 mm | 62.2mm |