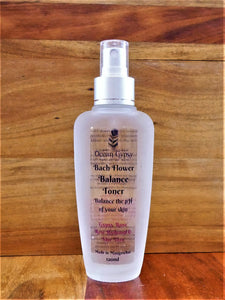 Balance your skin's pH with Ocean Gypsy Bach Flower Toner in Gypsy Rose scent.  This divine toner contains witch hazel & rose hydrosol to soothe, calm and balance the skin pH after cleansing your beautiful face.  Especially good for acne-prone skin and beneficial for all skin types. 
Refill is available with an aluminium cap; just change over the spray cap to your next bottle.
Ingredients; Rose Hydrosol, Witch Hazel, Aloe Vera Concentrate, Rose Geranium, Micro Care D (,Dehydroacetic acid and benzyl alcohol EcoCert), Bach Flowers Scleranthus (balance) & Hornbeam (vitality).
To complete your skincare routine, first, remove dirt and grime with Ocean Gypsy Bi-Phase cleanser. The apply Bach flower Balance Toner allow to absorb and apply Bach Flower Renewal Facial Oil or Ocean Gypsy Nourishing Balm or Silk Cream.