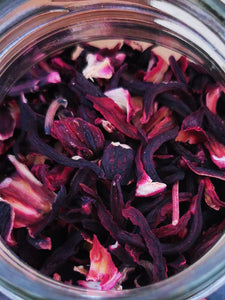 Hibiscus Tea, made from Hibiscus flowers this tea is drunk widely in Egypt as it helps regulate body temperature so perfect in hot weather.  So is perfect for women going through menopause.  Known for its high in antioxidants and vitamin C. 
The colour of this tea is a deep red.  The taste of hibiscus tea is slightly tart but can be sweetened if desired.
This tea can be enjoyed hot or makes a super delicious cold tea with ice. 
Perfect for a sugar-free solution, pop in a wine glass as a healthy alternative to wine or use as an alternative to kids cordial or make up a concentrated brew and make iceblocks. 
Make a concentrated brew as an alternative to pink food colouring.
Caffeine & Tannin Free
Ingredients; Hibiscus Flowers 
Excellent in helping to regulate hot flushes during menopause.
See more benefits with this link
https://www.oprahmag.com/life/health/a26785615/health-benefits-of-hibiscus-tea/