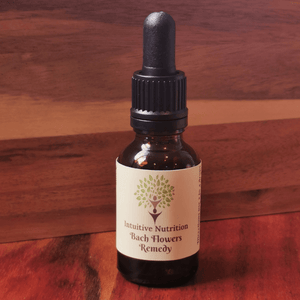 A blend of Bach Flower Remedies to balance the mind from chaotic mood swings and emotional turmoil to inner peace.  A valuable blend for hormonal times in teenagehood, for PMS, Perimenopause, menopause or times of change.   This Bach Flower Blend is designed to bring the emotional state into equilibrium. 
Take 4 drops 3 x daily for acute situations. Take 3 drops every 15 minutes up to one hour.

Choose from Brandy & Water or Apple Cider Vinegar & Water for your base tincture.  The Bach Flowers are then placed into this solution.
It is important to take the tincture daily so the energy field can shift into balance.  Natural therapies are about repetition.  Set your phone alarm and take in the morning, noon and evening.
 Please place your birthday into the notes so I can place your birth flower into your blend. 
Always consult your health professional for underlying causes of medical conditions.  Everyone is individual, so results do vary.  Combine with a healthy lifestyle of nutritious foods, supportive environment and relationships. 
Affirmations;
"I am full of joy"

"I am centered"

"I am connected"
"I am loving to myself and others"
"I feel light"
"I am happy"
"I am sure of myself"
"I am relaxed"
"I breathe"

"I keep things in perspective"