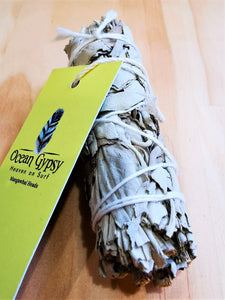 White Sage often know as 'Sacred Sage' was first recorded as being used by Native America Indians who used it in rituals and ceremonies.  It was used to rid persisted unwanted energy and to ask the spirits for prosperity, blessing and protection.
A common way to use white sage is to clear the home of unwanted energies by lighting the smudge stick and working from the open front door around the home in a close wise direction allow the smoke to go into every corner where spirits and energy often are.  Finish at the front door and leave open for a while for the spirits and energy to flow out of. 
Sage Smudging can be done regularly to maintain positive energy within a home or workspace or to clear negative energy after a negative event.   
This sage smudge stick is organic and is on average 12cm long by 3cm this will vary slightly as it is a natural product.