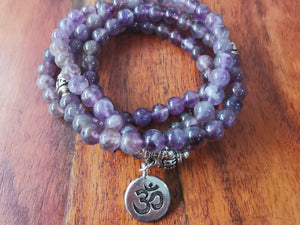 Mala beads are powerful and symbolic tools for meditation that have also been used in prayer.  The mala beads will connect you to your truest, most unique, authentic self. 
These Amethyst Mala beads can be worn either as a necklace or bracelet, it has the Om symbol that represents the sound of the universe and can energize your chakras.
Amethyst has a calming effect and can help reduce anxiety, anger and grief.  It benefits those experiencing loss, misfortune or adversity.  It calms the mind and gives insight into the choices we make.  In daytime, it helps one stay grounded, while at night it promotes peaceful sleep and healthy dreams. 
The stone may help reduce insomnia due to its strong calming effect. 
Mala/Prayer beads have been used for centuries by a range of religions, from Hinduism to Catholicism. ... They traditionally include 108 beads in addition to a guru bead, which is larger than the rest of the beads.