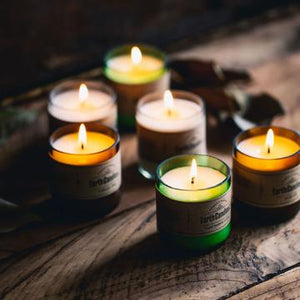 Earth candles' Beer Bottle tealights are created in the same spirit to relax and enjoy an evening with the flickering light and soothing fragrance they release. Each tealight made from premium natural soy wax, set in a beer bottle base with the top cutaway.  Note this is for one tealight only.
The perfect top up for any gift.
This is for one tealight only.
Each tealight approximate burn times:
100g - Re-purposed Beer Bottle Tealights - 25Hrs

All Earth Candles are handmade in New Zealand using the finest materials available, including 100% premium pure soy wax and cotton wicks. 
Comes in Wanaka; Take relaxation to a whole new location. Enjoy a clean and delicate combination of bergamot, jasmine, ylang-ylang, infused with grounding rosewood fragrance oils reminiscent of the earthy and woodsy fragrance of trees by the lake. With top notes of bergamot and jasmine hints of the flowers growing among the trees.
Raglan; Feel the vibes of this hippy seaside town. Breathe in the smell of the sun, sand, sea and surf at the spritz of Raglan Vibes a perfume inspired from the sights, sounds and smell of the town of Raglan. The fresh citrus and tropical fruit fragrances form the top notes that slowly meld into deeper spicy notes, so reminiscent of the vibrant and lovely Raglan and its community.