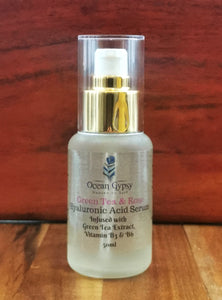 Green Tea & Rose Hyaluronic Acid Serum is a an amazing product to add to your skincare routine.  Hyaluronic Acid, often referred to as HA, is a naturally occurring substance in our skin that plays a crucial role in maintaining its youthful appearance. It's a powerful humectant, meaning it has the ability to attract and hold a significant amount of moisture.
Here are some known benefits
Intense Hydration: Hyaluronic Acid can hold up to 1,000 times its weight in water, making it an exceptional moisturizing agent. Our product delivers deep hydration ability to your skin when used as per the instructions (see below). It plumps and smoothes the skin for a more youthful, radiant complexion.
Improved Elasticity: By replenishing the skin's moisture barrier, hyaluronic acid helps support skin elasticity. This results in firmer, supple skin that resists the signs of ageing.
Reduced Fine Lines and Wrinkles: Dehydrated skin often accentuates the appearance of fine lines and wrinkles. Hyaluronic Acid, due to its humectant ability, has seen to diminish wrinkle visibility by providing essential moisture, giving you a smoother, more youthful complexion.
Soothing and Calming: This incredible ingredient also has soothing properties that help reduce redness and irritation. It's suitable for all skin types, including sensitive skin.
Compatible with Other Products: Hyaluronic Acid can be seamlessly incorporated into your existing skincare routine. Use it before your moisturizer or as a complement to other products for enhanced hydration.
50ml pump glass frosted bottle.
Ocean Gypsy Skincare Routine

Wash the face with warm water and a face cloth.  Shake the Bi-Phase Cleanser then immediately, pump it onto the fingertips, and massage it into the face and neck area. Wipe over the face to remove unwanted dirt, grime and makeup.  After removal, wash the face with a warm cloth. 
Spray over Ocean Gypsy Rose Hydrosol or Cucumber Hydrosol Spritz to moisten the face for the application of the Green Tea & Rose Hyaluronic Acid.  Apply the Hyaluronic Acid Serum to the finger tips and massage into the moist face and neck then pat the finger tips onto the face lightly pushing the Hyaluronic Acid Serum in.
Next, apply Ocean Gypsy Bach Flowers Renewal Facial Oil or Nourishing Balm or Nourishing Silk immediately after so the Hyaluronic Acid Serum sucks up the Bach Flower Renewal Facila Oil and leave for 5 minutes to absorb. 
Enjoy these wonderful products for beautifully clean, nourished, hydrated skin. 
Avoid the Eyes if does get into the eye wash out straight away. 
 Ingredients; Distilled Water, LMW Hyaluronic Acid, Rose Hydrosol, Organic Vegetable Glycerine,  Green Tea Extract (Glycerine, Water, Camellia sinensis Leaf Extract, Sodium Benzoate, Citric Acid, Potassium Sorbate), Panthenol B5, Niacinamide B3, Geogard Ultra, Xanthum Gum