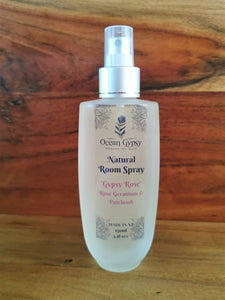 'Gypsy Rosa' Ocean Gypsy Room Spray encapsulates the beautiful scent of rose with the blend of Rose Geranium & Patchouli premium essential oil blended with Rose hydrosol this is a divine room spray for the bedroom or lounge.  
150ml beautiful frosted bottle with pump spray & available with an eco aluminum cap for a refill option. 
Ingredients; 
Aqua, ethanol alcohol, rose geranium & patchouli essential oils, rose hydrosol, solubiliser (capryl glucoside) & micro-care (dehydroacetic acid and benzyl alcohol)
Made in Mangawhai Heads, New Zealand.