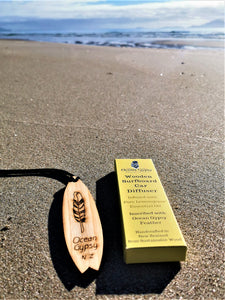 Look super cool this summer with an Ocean Gypsy Wooden Car diffusers.  These diffusers are made from Birch, inscribed with the Ocean Gypsy feather and scented with pure plant botanical essential oils of high-quality Lemongrass. They are made here in Mangawhai Heads, New Zealand. Measures 142mm long by 36mm wide.
Come in Surfboard Style, King Fish Style. 
Both infused with Lemongrass, top-up essential oils available in our store.