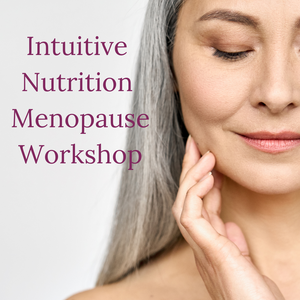 Make your Menopause Journey easier by joining the Intuitive Nutrition Menopause Workshop.
What stage are you at on the menopause journey? peri-menopausal, which is right at the beginning when you notice changes are coming with hot flushes now and again, sporadic periods, or it might be more volatile up and down moods?
Or are you in the epi-centre in varying degrees? Where ever you are in your menopause journey, gaining knowledge to make the transition easier on your mind, body and inner being can make this transforming journey just that a journey of transformation.
Join our Intuitive Nutrition Menopause Workshop with women on the same journey as you. Learn to tap into your intuition, balance your lifestyle and eating habits and learn amazing mindful techniques to get you through your ups and downs.
There will be hypnotherapy in this workshop and other practical components. Includes a free notebook & bach flower remedy plus a self-hypnosis audio to be done four times before you come.
All Day Workshop on Sunday 4th September 2022 at The Yoga Barn, 21 Moir Point Road, Mangawhai Heads
Bring comfortable, non-restrictive clothing and your lunch.
Complimentary Tea, Coffee & Biscuits. Bring your own lunch. Morning and afternoon tea break and 1/2 hour lunch break. 9.30 to 3.30 - 4 pm.
$169.00