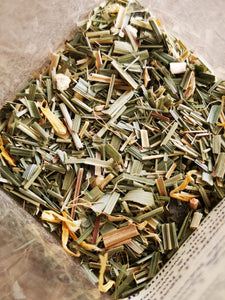 Tea & Chai New Zealand Kawakawa, Lemongrass, Ginger & Calendula Herbal Tea or less commonly known as a Tisane is a wonderful blend of medicinal plants.  Kawakawa is an important medicinal herb for Rongoa Maori (traditional Maori medicine).  Interestingly in the Maori Plant Database from Plant Care Research New Zealand Kawakawa traditional uses for the leaves are for bladder, chest and stomach complaints. 
Available in 60g bag only
This blend is excellent for prevention or during illnesses such as a cold.