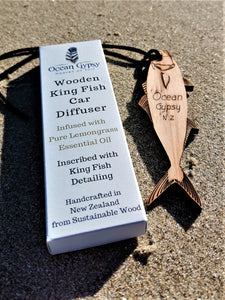 Ocean Gypsy Wooden Car diffusers are made from Birch, inscribed with the King Fish Detailing and scented with pure plant botanical essential oils of high-quality Lemongrass. They are made here in Mangawhai Heads, New Zealand.
Simply hang from your rear vision mirror for a beautiful smelling car, re-infuse with essential oils.  Ocean Gypsy Lemon Grass Essential Oil available here on our online store.
Measures 142mm long by 36mm wide.

Comes in King Fish Shape and Surf Board Shape.