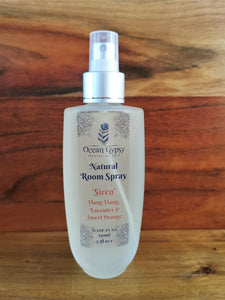 Make your house smell sensual with Ocean Gypsy Natural Room Spray 'Siren' Ylang Ylang, Lavender & Sweet Orange.   Ylang ylang is the essential oil of lovers, combine this with lavender to relax and then sweet orange to bring youthfulness to your home.  
'Siren' was the original mermaid, in greek mythology Sirens were mystical sensual beings that lured sailors with their beauty.  
Ocean Gypsy Natural Room Sprays are all natural made using premium essential oils and suspended in alcohol and water.  
150ml comes with a misting cap or with aluminum lid for refill.
Ingredients; Aqua, ethanol alcohol, ylang-ylang, lavender, sweet orange premium essential oils, solubiliser (capryl glucoside) and micro-care (dehydroacetic acid and benzyl alcohol).
MADE IN NEW ZEALAND BY OCEAN GYPSY