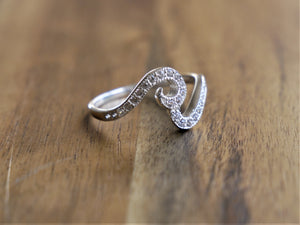 If you like a little bit of bling in your jewellery collection or need some sparkle in your life then this is the ring for you.  With its double wave design adorned with CZ simulated diamonds, this ring will sparkle in the sunlight when sunbathing on the beach or riding the wave. 

Made from 925 Sterling Silver with CZ simulated diamonds.  
Comes wrapped in blue tissue paper in an Ocean Gypsy Blue Bag
To measure for your new ring;
Simply wrap a piece of string or paper around the base of the finger, then mark with a pen where the two ends meet.
Lay the string or paper out and measure it using a ruler in mm.  Note the measurement down.
Then choose the closest measurement on the ring chart below.
| | | |
| --- | --- | --- |
| Size | Diameter (mm) | Circumference (mm) |
| 6 | 16.5mm | 51.9mm |
| 7 | 17.3mm | 54.4mm |
| 8 | 18.2mm | 57mm |
| 9 | 18.9mm | 59.5mm |
| 10 | 19.8 mm | 62.2mm |