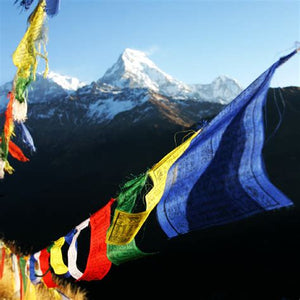 A Tibetan prayer flag is a colorful rectangular cloth, often found strung along trails and peaks high in the Himalayas. They are used to bless the surrounding countryside and for other purposes.
The pray flags are made from cotton and have mantras, sutras or prays and Buddist symbols.  Words and symbols contain energy, when in the breeze this energy frequency moves into the area changing the frequency, used for many different situations from protection, to universal law, good fortune and luck plus more.  
Hang up in your garden, home, or office space to change the energy frequency to positivity. The flags will come more ragged over time as they weather.