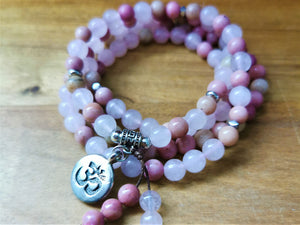 Mala beads are powerful and symbolic tools for meditation that have also been used in prayer.  The mala beads will connect you to your truest, most unique, authentic self. 
These Rhodochrosite & Rose Quartz Mala beads can be worn either as a necklace or bracelet, it has the Om symbol that represents the sound of the universe and can energize your chakras.
Rhodochrosite holds a delicate but powerful frequency that allows your mind to expand to higher consciousness.  Rhodochrosite attracts love by opening up the heart chakras with its healing vibration.  It is perfectly complemented by the energy of Rose Quartz, which is known as the stone of love.  Feel your spirit begin to soar as old emotional wounds dissolve, releases energy blockages that are keeping you from happiness and joy.  This crystal gives us the inner strength to take another chance at love.

Mala/Prayer beads have been used for centuries by a range of religions, from Hinduism to Catholicism. ... They traditionally include 108 beads in addition to a guru bead, which is larger than the rest of the beads.