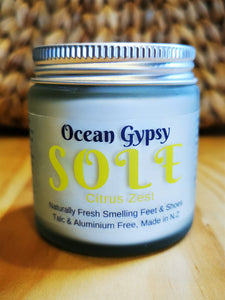 SOLE Deodorizing Feet & Shoe Powder naturally reduces the smell from shoes and feet due to its natural anti-fungal and anti-bacterial ingredients. 
Containing non-nano zinc oxide, sodium bicarbonate and essential oils to keep odour at bay.  Infused with essential oils of Lemongrass and Lime your feet and shoes will be smell like a citrus orchard in no time. Contained in glass with metal lid to reduce plastic use. 
Sprinkle into shoes using the little cardboard scoop, use continuously for 7 days wearing each day up to 10 days or more for heavily odour shoes.  
Containing no aluminium or talc so you know it's safe! 
Comes in two scents
Citrus Zest
Mint Leaf